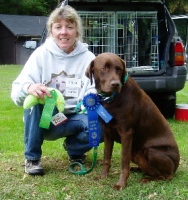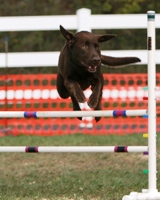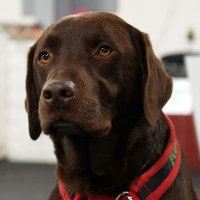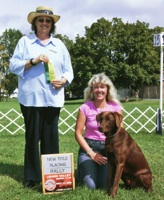 Porter was adopted in November 2005. He started agility training right after being adopted and competed in his very first AKC Agility Trial in Lancaster, PA on September 30, 2006. Porter DOUBLE qualified in the Standard course (100 points score, and 1st place) and in the Jumpers course (95 points score and 3rd place). On October 29, 2006 Porter did it again: Porter came in first in standard and second in jumpers with 100% scores in both events. On November 12, 2006 Porter completed his AKC Novice Agility Preferred title. He only needs one more leg in jumpers and he will have two AKC Novice agility titles!
On April 1, 2007 Porter completed four more titles: AKC Novice Jumpers Preferred and DOCNA (Dogs on Course in North America) Beginners Standard Agility, Beginners Jumpers Agility, and Beginners Trigility Agility. Click here to view Porter and his "mom" Linda during the DOCNA Trigility Box of Chocolates Team Run on YouTube.
On July 1, 2007 Porter completed two more titles: OAP (Open Agility Preferred) at OJP (Open Jumpers Preferred), and if that wasn't enough, he also received his first leg in the excellence level.
On August 20, 2007 Porter finished his DOCNA - Intern Standard Agility Title (ISA). On September 2, 2007 he received his AKC Excellence Standard Agility Title (AXP) and got one leg towards Excellence Jumpers!
On October 27, 2007 Porter earned his AKC Jumpers with Weaves Excellence Title.
On May 26, 2008 Porter won his Title for AKC Rally Novice at the Atlantic Shore Memorial Weekend Classic Show.
On September 13, 2008 Porter won his Rally Advance Title. Porter also got his Performance Jumpers 1 Title in USDAA and his Level 1 Standard Title in CPE this summer.
On November 1, 2008 Porter won his Rally Excellent Title.
In April 2009, Porter got his AKC Masters Preferred Titles in Excellence Standard (MXP) and Excellence Jumpers (MJP).
Congratulations to Porter and his "mom" Linda!

Back to top.